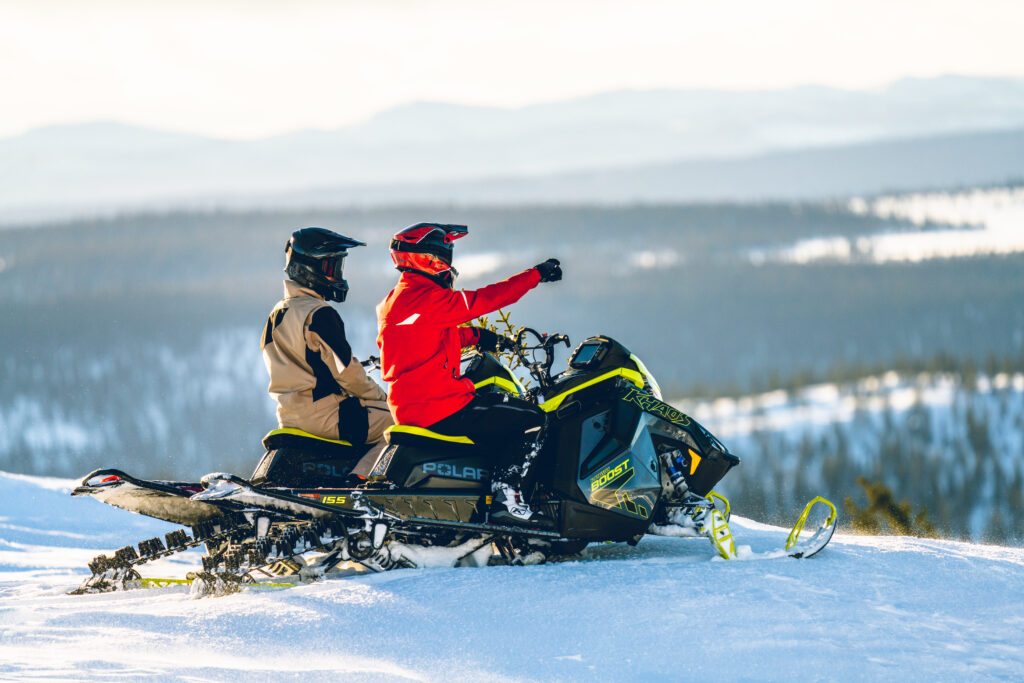 Camp Gauto – Snowmobile Rental 2023
Group 1   Polaris Khaos 155″ Slash 
                  Polaris Switchback Assault 850

Group 2   SKS 650 146″

                  Polaris Titan S4
                  Polaris Titan Adventure 800

                  Polaris Nordic Pro S4

                  Polaris Nordic Pro 650
| | | | | | | |
| --- | --- | --- | --- | --- | --- | --- |
| | 1 Day | 2 Day | 3 Day | 4 Day | 5 Day | 6 Day |
| Group 1 | 2890 SEK | 5870 SEK | 7780 SEK | 9780 SEK | 11 780 SEK | 13 780 SEK |
| | | | | | | |
| Group 2 | 2590 SEK | 4890 SEK | 6490 SEK | 7890 SEK | 9190 SEK | 10 590 SEK |
| | | | | | | |
In the rental price 50 km are included each day, for every started 10 km after the included 80 km another 50 SEK will be added onto the price. Fuel and oil are added to the price.
| | |
| --- | --- |
| Cloths incl. helmet | 300 SEK / day |
| Passenger trailer | 600 SEK / day or 3000 week |
| Storage trailer | 300 SEK / day or 1800 week |
| Passenger seat | 150 SEK / day |
| Cargo Box | 150 SEK / day |
We reserve us for changes in  sled models and prices due to circumstances beyond our control.
General terms & rental conditions
Insurance is included in the price, damage cost will be added if the sled is damaged at return. Max 20 000 SEK per injury occasion.
The rent include 50 kilometers a day, further will be charged with 5 per kilometer at the return of the sled.
Free cancellation at the latest 24 hours prior rent periods start, otherwise a cancellation fee will be charged with 50% of the amount.
The rental sled is delivered with full tank of gasoline and  should be returned with full gas. Fee for used oil will be added.
The sled is inspected by both parts at depart and return. Damage to the sled will be charged according to price list.
The renter is responsible to handle the sled well and keep it in good working order at all times and according to law.
The renter has the right to check the sled during rental period, if we see reasonable case to suspect that ownership is in danger or that there is a risk for depreciation, beyond what is based on a normal usage of a sled. The renter reserve the right to cancel the reservation immediately due to unnormal usage of the sled.
We reserve us the right to change model of the sled due to circumstances out of our control.
For more details around rental conditions, please contact us.